Jamie Oliver: I Lost Nearly 30 Pounds By Eating…Seaweed
Jamie Oliver attributes his recent weight loss to eating nutritious seaweed An Asian favourite, the marine algae is packed with weight-loss ingredients It can be used in the same way as spinach and is even available in Tesco.
Jamie Oliver attributed his recent weight loss to seaweed, calling it 'the most nutritious vegetable in the world'. And he is not alone in believing so - seaweed is fast becoming the greatest trend in food. 'Seaweed has many health benefits and there's been a huge increase in demand,' edible seaweed products will be stocke in more than 30 supermarket stores.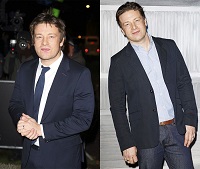 Seaweed is also a rich source of antioxidants, which can help combat inflammation and improve overall health, and it contains vitamin K (which helps your blood clot), calcium, and iron.